A bad technology rollout can lead to long term infrastructure problems. That' why it's important to treat the symptoms as soon as they become apparent.
Migraine - Poor Management
Without effective management, stress levels rise and performance plummets. Learn the tell-tale symptoms that you have a bad rollout PM.
Ear Ache - Poor Communication
Poor communication between the team creates disjointed processes and methodology. Explore the communication challenges posed by multi-site technology rollouts, along with the methods that should be used to address them. 
Angina - Poor Site Management
Continual Revisits Put Unbearable Strain On Your Heart.  Learn about the four 'chambers of the heart' of a rollout and how to succesfully manage them.
Indisgestion - Poor Account Management
Over-charging and bills that don't makes sense give you a sour stomach.
Athlete's Foot - Poor Project Management
Unprepared and unprofessional field techs make your rollout limp along.
Carpal Tunnel - Poor Execution
Continuously replying to 'what went wrong' emails wears you out.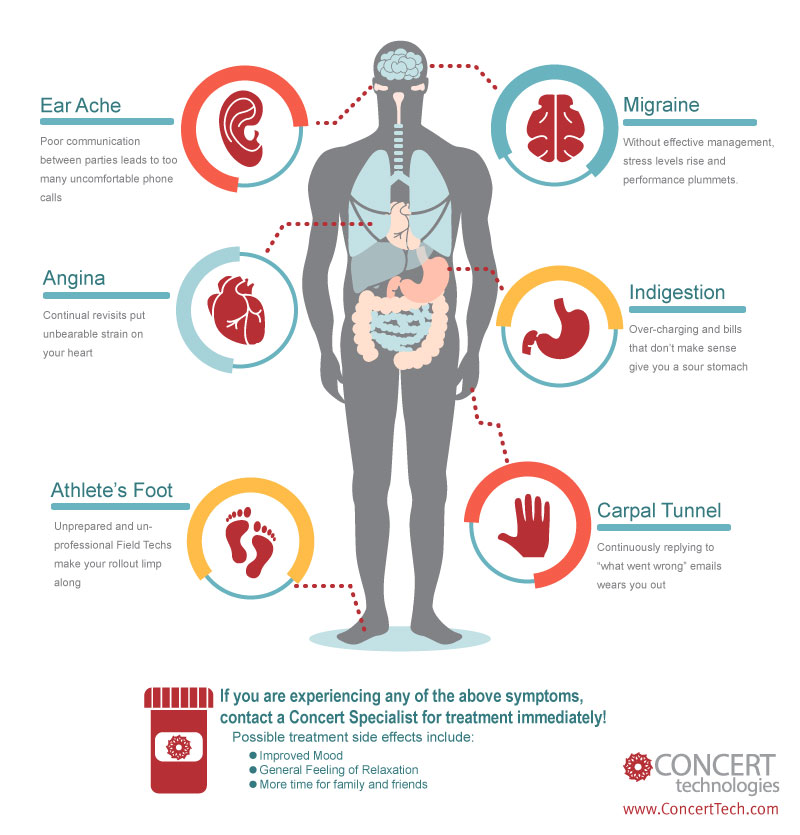 Onesies, twosies for technology deployments at multiple locations spread nationwide or globally causing you grief? Is one Wi-Fi AP install at a site, two VoIP phones at another site and one cat 6 cabl...
Today, ICT drives business and RTPMs drive ICT rollouts. Concert Technologies is proud to have the most Registered Telecommunications Project Managers under one roof, successfully deploying ICT on a g...
Concert Technologies provides a sneak preview of our industry presentation for project managers and teams deploying and managing infrastructure for multi-site rollouts of technology. Our abbreviated p...
What You Need To Know To Avoid Risk This increased ease of IP installation at the field level has caused many inaccurate perceptions in the industry. One of the foremost of these is that there is a de...